Tuff Stuff -
Water Pumps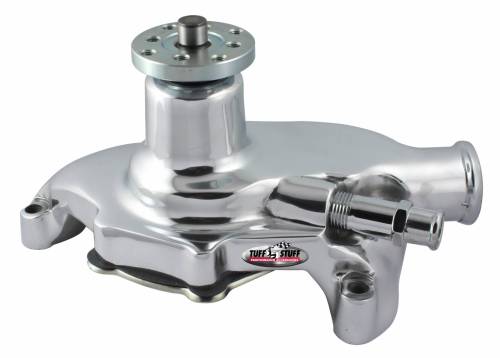 Tuff Stuff water pumps are hand made from premium quality new components - not remanufactured - and are quality built in the USA. Precision-made ball/roller bearings and spin-balanced fan hub sustain higher RPM's. Many pumps are available with the SuperCool option that includes a custom water pump impeller that flows 30% more coolant to reduce water temperature by up to 20 degrees. Most are available in chrome plated, polished aluminum, powder coated or as cast finishes. Click
here
to learn more about Tuff Stuff water pumps.
Select a Sub-Category
---
More About
Water Pumps
Tuff Stuff water pumps are hand made from premium quality new components - not remanufactured - and are quality built in the USA. Precision-made ball/roller bearings and spin-balanced fan hub sustain higher RPM's. Many pumps are available with the SuperCool option that includes a custom water pump impeller that flows 30% more coolant to reduce water temperature by up to 20 degrees. Most are available in chrome plated, polished aluminum, powder coated or as cast finishes.